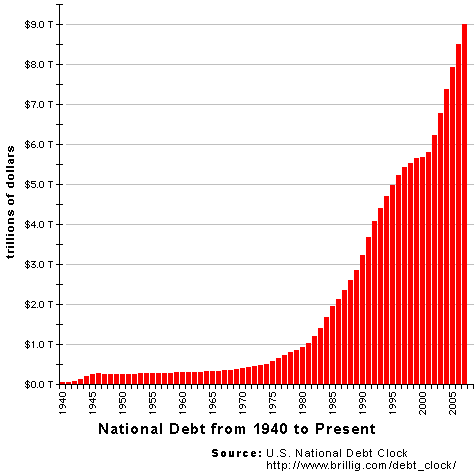 (Click to Enlarge)

Oh my, oh my, oh my. Spending is out of control in Washington, and I'm sad to say it wasn't any better under a Republican Senate and Congress than it is now under a Democrat Senate and Congress. This madness has to stop. Government needs to shrink, government programs need to shrink, taxes need to shrink. The government is dipping it's toe in places it was never meant to be, and in some cases it is belly-flopping into our lives, where it need not interfere. All these recent bailouts and government interferences in the free market have damaged our economy far more than they have helped.
Bush says sacrificed free-market principles to save economy
Sigh... President Bush, I have always respected you, though not always agreed with you. I pray for you every night that you will guide this country according to God's will. Please, please, enough already. FDR proved that throwing more money at a recession or depression does nothing but make it worse. The best thing the government can do, is stay out of it, and focus on those things it was originally designed to do, like protect our borders.
Mr. Obama, I may not like you... At all, but it looks like you will be the President, and as such, I implore you to set aside your agenda, and focus on real change. Stop the hemorrhaging of money, stop taxing the people and industries of this country to death, stop the growth of government, stop instituting government fixes that only help the government grow bigger and stronger in the end.